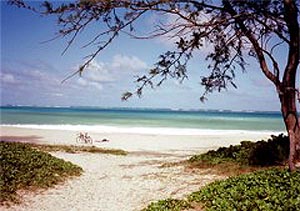 When you go MTBing here, never go out without a towel, mask and fins. On some longer rides (one circuit loop for example, ridin' out past Diamond Head, through Kahala, out to Hawaii Kai and then 'round past Hanauma Bay and Sunset beach) I'd hit a quiet stretch of beach (i.e. sin turistas) and hang out all afternoon. This beach here is close to the beach house used in Magnum P.I. (you remember..."Book 'em, Danno!" Oops, wrong show). Lots of jellyfish in the waves especially on them "Kona Wind" days brudda, so watch out for their sting and carry some MEAT TENDERIZER. Whatever you do Don't Panic!
In the morning was the 5-mile Kilauea Caldrum Rim Run, Big Island. Great fun! Then in afternoon, drove down, top-down, to the coast to see the lava fields. On way there stopped by this black sand beach. The famous original Black Sand Beach is no more, vanished, pau, thanks to lava flows some years ago...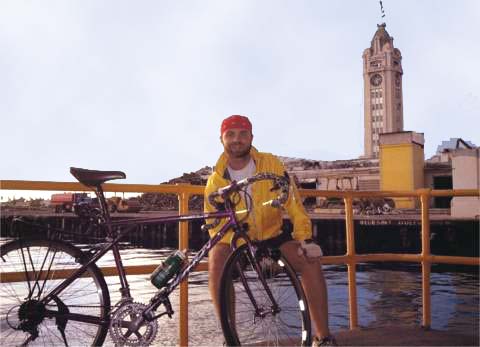 Aloha Tower Marketplace:
Used to be the old docks and warehouses of Honolulu Harbor but has since been refurbished into a bustling tourist trap. I stopped by to witness the demolition and progress daily on my ride home from work at pier 31. Aloha Tower in background.